By Gary Baus (Republished by Good Day, Cork with permission from the author)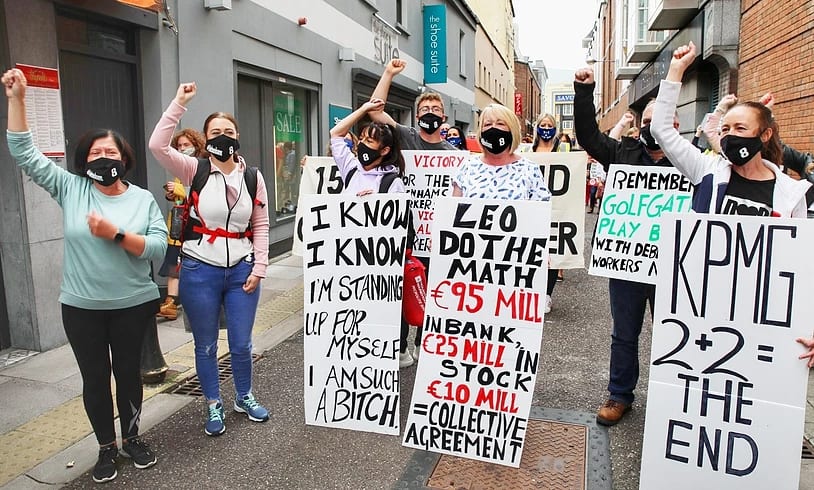 During the lockdown, when I was feeling useless as I'd lost all my gigs and powerless to fight back as the covid restrictions had impaired our regular activism with People Before Profit, one news story shook me out of my stupor. I remember reading how the Debenhams workers who had just been sacked raised €17,000 for the former Debenhams factory workers in Bangladesh. Considering the wellbeing of their fellow Bangladeshi workers ahead of their own was an act of solidarity that really impressed me.
Once a seed of solidarity is planted, it replicates and grows and their selfless act humbled me into action.
Can you imagine if your first thought after losing your job without redundancy was to think of people on the other side of the world? They knew the Bangladeshi workers had no access to social welfare and they knew they needed help. I was curious to meet the type of people that would help others without even knowing them. Of course their generous gesture matched their character and I enjoyed spending time on the picket line with a group whose bonds were so strong after years of service together. But also their tenacity, strength, and determination were apparent as they stood their ground not only for each other but for every worker who may find themselves in a similar situation when their employer uses the pandemic as an excuse to cut and run.
It felt good to be active politically again but as the picket dragged on it occurred to me that perhaps I could help them even more musically. We'd been chatting about Bruce Springsteen's music and his proud public support for labour movements when I recalled his famous cover of 'Pay Me My Money Down'. Soon after listening to it we started improvising our own rhymes about the Debenhams situation. I sat down on the kerb and started jotting it down. I said, "Hey I think we've got the beginnings of something here. I'll work on it and maybe we can perform it at the next protest on Patrick's Street. Let's record it too and then tweet it at Bruce!"
After a while the lyrics were done but it was then I knew I had to do the one thing we often feel most reluctant to do: ask for help. I sent out word to the music community of Cork and without hesitation everyone replied enthusiastically. We had singers, guitarists, banjo, trumpet, saxophone, clarinet, and even tuba!
One act of solidarity had led to another. As we performed the song outside Debenhams the kindness and support from the public, the workers, and the musicians was truly moving.
 ​
It's powerful to witness and it stands in stark contrast to the greed of the corporations that we fight against. They're only asking for what they deserve and I hope they win because it couldn't happen to a more deserving group of people. After 161 days their strike became the longest running industrial dispute in Irish history. Indeed this is a historic movement for Irish workers to demonstrate their strength against corporations that commit wage and redundancy theft. If the workers lose, we all lose. But their victory will be a victory for workers everywhere. Either way, their fightback and effort will be an inspiration to all workers for a long time to come.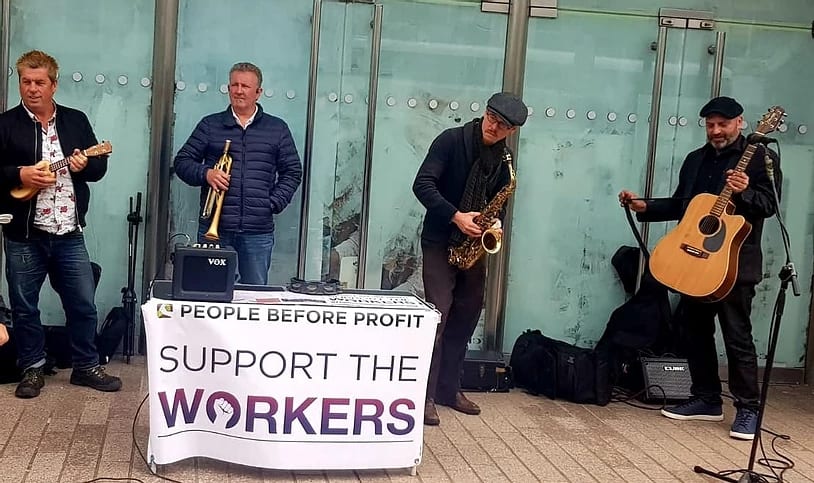 KPMG, Pay Our Redundancy
Written by Gary Baus and The Debenham Workers
(Cork, Ireland)
Let me tell ya what's goin down
The workers here all got the sack
But watch out they're fighting back
It's right for you and me
Pay the workers and treat them fair
or this stock ain't goin nowhere
Pay the workers and treat them fair
or this stock ain't goin nowhere
Listen now to what we say
We're on strike for our pay
Picket Pals are here to stay
You can't stop us from blocking the vans
We're gonna do everything we can
We know it's right, and we know it's just
Don't blame us because you went bust ​
My feet are tired and my back is sore
But I know what we're fightin for
Gonna stand on the picket line
T
ill I get what's rightfully mine ​
The people of Cork send their support
They say implement the Duffy Cahill report
Join us now and give us a hand
Sing along to what we demand
Your standing here gives up hope
And we wrote this song to help you cope
To send a message to the big boss man
So this'll never ever happen again