Call for Multilingual Submissions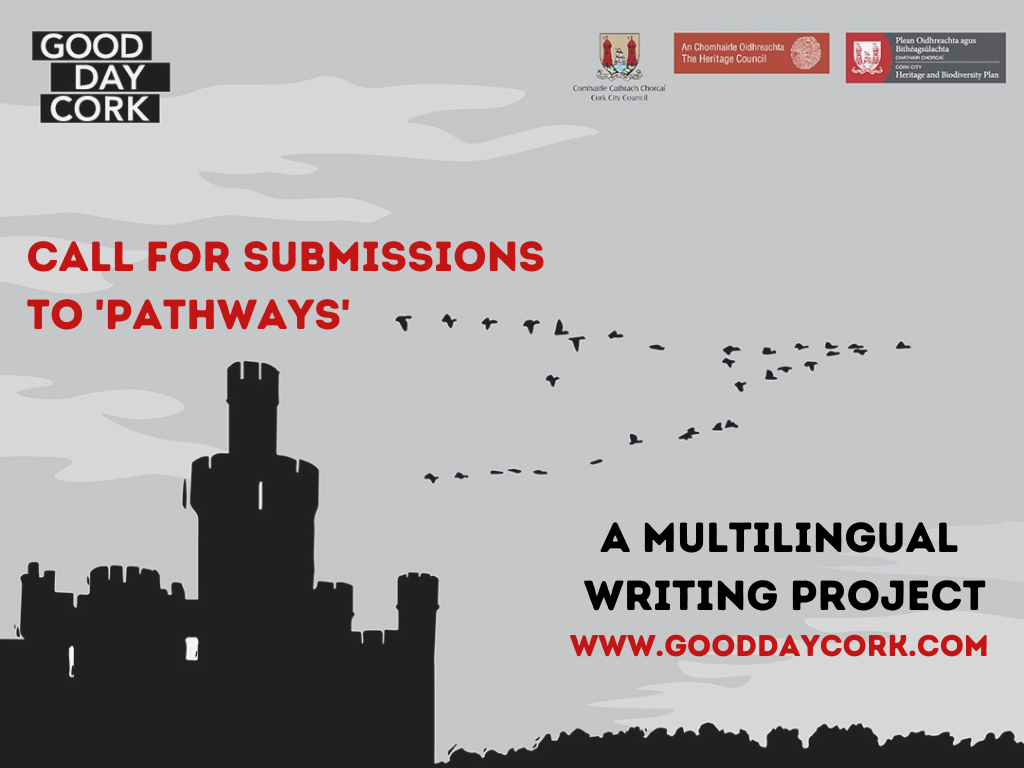 Good Day Cork invites all multilingual speakers/writers to submit a creative fiction/non-fiction piece in your native tongue along with the English translation to our new collection called 'Pathways'. This project is made possible with the support of Cork City Council and the Heritage and Biodiversity Plan.
Theme
Describe the experience of walking the route from Marina Market to Blackrock Castle, Cork, a biodiversity wonder!
More about the theme
The routes we take in our day-to-day life, however remarkable, can too-often be taken for granted, and their beauties and wonders dismissed.  Good Day Cork aims to remedy this through the magic of language – with each new tongue comes a new perspective, and with each new pair of eyes comes a fresh view of the familiar.  We invite you to wander down one of Cork's loveliest walkways, and take in not only the fresh air and Irish summer weather, but also the nature and history of your surroundings.  We hope to celebrate not only the beauty of Cork, but the vibrancy of its mingling cultures, languages, and perspectives, all packaged together in an easy-to-read format for enjoying en route, and released to celebrate Cork City Heritage Week. 
To support this call, we're hosting a free nature writing workshop with Cethan Leahy on Sat 4th June @ Living Commons, Shandon St, Cork 10:30 to 1:30pm. Book your spot by email to info.gooddaynews[@]gmail.com
It's free to enter! Up to four pieces will be chosen to be released on 20th August,10:30 am at an in-person event during Cork Heritage Week 2022. The 'Pathways' collection will also be published online on our website. The winners will receive an honorarium of €75.
Deadline: Submissions close on 16th June, 7pm 
Drop us an email if you have any queries to info.gooddaynews[@]gmail.com 
Send a sample of the proposed essay in both languages to features.gooddaycork[@]gmail.com 
The word limit is 250 words.
The deadline to send your submission is 16th June, 7pm.
Please note you don't have to attend the workshop to send your submission. 
We'll notify the finalists on 23rd June.
You'll submit the completed piece with its English translation on 4th July with relevant photographs to support your piece. 
Please remember to credit the photographer when you submit photos.
You'll also send your own photograph & bio.
All photos should be in hi-resolution & in horizontal dimension.
We've planned a launch to be held during Cork Heritage Week on 20th Aug, 10:30am in Cork at Living Commons. The authors will read an extract of their piece in the native tongue and also read the translation. There will be time allocated for the authors to share thoughts on climate change and heritage
The launch event is open to the public and we might even have live music.